Signature Glass Collection
The LUMEN Signature Glass Collection is designed by contemporary artists and curated by Le Dictateur, one of the most dynamic independent realities of the Italian art scene.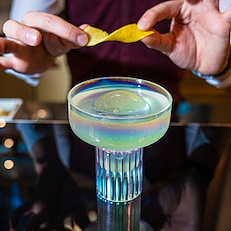 Atollo
designed by Patricia Urquiola
Atollo
designed by Patricia Urquiola
An alluring shimmering glass evocatively named Atollo, from "atholhu" in the Dhivehi language, idiom originating in the Maldives archipelago, recalling the heavenly land of an atoll. The glass, indeed, is conceived as a column supporting a hemispherical module, just like the heavenly landscape of an atoll enclosing an internal lagoon. Atollo is the starting point for an imaginative exotic journey reflected in the namesake cocktail made with Champagne, Italicus, Americano Cocchi, lemon juice, sugar syrup, and gin.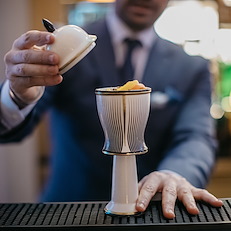 MINI MING
designed by Federico Pepe
MINI MING
designed by Federico Pepe
Inspired by the tradition of Chinese porcelain as an example of supreme elegance and aesthetics, the series is composed by two glasses, conceived as vases with a lid and hand-decorated with an iconic and recurrent patterns such as "Eyes in Chains" and "Spine". Mini Ming recalls the oriental Ming vases changed into pots and cups used for drinking wine since ancient times. The oriental mood is found in the choice of ingredients that give life to a fresh cocktail mixed on yuzu and dai-dai juices plus infused tangerine green tea.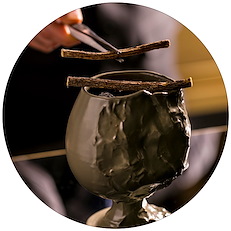 POZZANGHERE
designed by Nico Vascellari
POZZANGHERE
designed by Nico Vascellari
Pozzanghere is a collection of glasses half-lathed and half-shaped by hand. The ceramic cups designed and manufactured for The St. Regis Rome are inspired by the contrasts and opposed forces of which the city of Rome seems to be fed and be a symbol, from the origins linked to the mysterious fate of the twins Romulus and Remus. The two faces welcome a cocktail where the herbaceous and dark notes inspire a primary and primitive dimension, where drinking becomes a ritual integrated in a community context.